Riec student oboe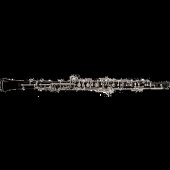 In order to replace conservatory instruments that are too old or worn out, but also to enable young people to acquire their personal instrument, the Maison Rigoutat has created its own family of study oboes: the RIEC and the DELPHINE.
The RIEC - first two letters of RIGOUTAT and ECOLE - is a full Paris Conservatory system study instrument with third octave and left F.
Provided with all of the trill keys, its mechanism nickel silver with heavy silver plating is fitted perfectly to a body made entirely of African Grenadilla wood. In order to avoid the risk of corrosion, all metal screws are made of stainless steel. Characterized by a full and highly flexible tone quality, this student oboe exists in the semi-automatic or automatic version as well as with variants for the Japanese model and the North American model.
Principal features :
Plateau system
Grenadilla wood body
Keywork in nickel silver with heavy silver plating
Range to low Bb with Bb resonance key
Left F key
B to C# trill
Left Eb key
F resonance key
F# to G# connecting mechanism
First octave key
D and C# trill keys
Second octave key closes the first octave (semi-automatic system)
Third octave key
Gillet key
Right and left G# key
All trill keys
Also available in automatic system model
Studie